Northern Firearms Instruction News...
Loading news...

Welcome to Northern Firearms Instruction!
It's your right to bear arms.
NFI is a team of highly experienced NRA Firearms Instructors headquartered in Redding (Shasta County) CA. NFI provides classes in the region focused on the knowledge, skills and attitude of safe firearms use. NFI specializes in California CCW courses for the new as well as experienced shooter. Our students learn to shoot safely in a stress-free learning environment. NFI is committed to programs that promote our local outdoor heritage. NFI supports the NWTF Jakes Program, Northern California Parent-Youth Turkey Hunt, The Rocky Mountain Elk Foundation, The Mule Deer Foundation, Ducks Unlimited, Pets without Partners, California Deer Association, California 4H, California High School Rodeo Association, and many others.
NFI teaches California CCW, Ladies Only California CCW, Basic Pistol Safety, Basic Rifle Safety, Hunter Marksmanship Clinics, CA Hunter's Education, and NRA Instructor Courses. Personal accountability and responsibility is the foundation from which we build all of our classes. NFI is authorized to provide CA CCW training to 30 Northern California Counties. We routinely train students from as far south as Tulare County and as far north as Siskiyou County. Welcome!
---
Reserved Seating Only
32 State Non-Resident CCW Training
Gift Certificates Available for All Classes
California CCW/Renewal
Ladies Only CCW
Private Lessons
NRA Instructor Training
Basic Firearm Safety Training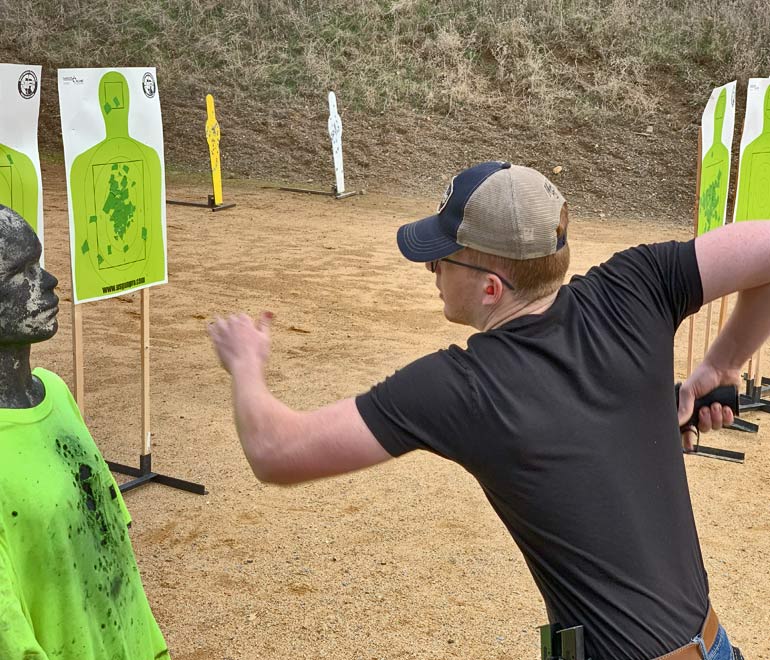 ---
Headquartered in Redding, California, NFI is proud to partner with corporations, law enforcement agencies, retail outlets and gun clubs. Each one of these organizations host or sponsor our Instructional Team in their areas to ensure a high level of firearms education to students. NFI's home shooting range is the Redding Gun Club, 21777 Seven Lakes Ln, Redding, CA 96003. NFI is proud to be the featured instruction team at several facilities throughout Northern California.
California CCW Course: Courses are located throughout Northern California.
Ladies Only CCW Course: A 12-hour course focused on the more apprehensive shooter. Sit down with NFI's Senior Instructor for an exploration of basic pistol training and all of the CCW subject matter needed to safely carry your personal protection firearm.
California Advanced CCW Course: Designed for the NFI Basic CCW Graduate, this class is the next logical step in training. Here NFI introduces advanced holster work, shooting while moving, shotgun familiarization training, and real-life scenario shooting with both friendly and threat targets.
NFI Pistol Fundamentals: Just acquired a pistol and want to learn how to shoot it? Try out this 4 hour course which includes range training*. *Shooters under 12 years old must be accompanied by an adult.
NFI Rifle Safety Course: Best training in the region for youth and adult new shooters and hunters. This 4 hour class is classroom as well as range based.
*Shooters under 12 years old must be accompanied by an adult.
CA Hunter's Education. Get certified for your California Hunting License using two formats: Home Study and Traditional Two Day courses.
NRA Instructor Courses: Learn to teach and earn your credentials in one of several disciplines to become an NRA Instructor. NFI Training Counselors are credentialed to teach NRA Instructors in the following disciplines: NRA Basic Pistol, NRA Basic Rifle, NRA Basic Shotgun, NRA Personal Protection in the Home, NRA Personal Protection Outside the Home, and NRA Chief Range Safety Officer.
NFI Private Instruction. Schedule four hours of NRA certified instruction with an NFI instructor at your location or ours. This is a great opportunity to set up a custom curriculum or a family firearms safety course. Training fees are based on the number of students and type of curriculum requested.
NFI instructors are experienced NRA Certified Trainers. Many NFI instructors are US military veterans or prior law enforcement. Each instructor has met stringent NRA certification standards and must remain active in the classroom and on the range to maintain these credentials. Their experience with new shooters has earned them a reputation as the most effective training team in the region. Register for a course today and begin your journey to becoming a more confident and effective firearms enthusiast.
---